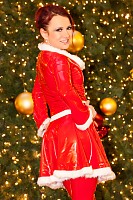 I'm like a little girl and look forward to X-Mas and this beautiful time. Even we had more a feeling of spring with very warm days I was very happy to walk over the regular Christmas market and see, enjoy and try various goodies.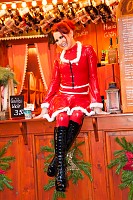 On this year I had four things which I really liked on this x-mas market: How every year the mulled wine is a must have for me and after a long search with many stops and tries I chose the "Apple Punch Room" the "Cellar Eye" as my favorite place. The mulled wine was simply perfect for my taste and as a second thing the girls at the booth were also so sweet that I felt very comfortable. If I remember right only met super nice people here. I'm not sure if it was because everyone liked my sexy Santa girl outfit. However, after some talk I heard that a model called "Michaela Schäfer" who prefers wearing rather less than more fashion was also at this booth and modeled in a Christmas costume. Wasn't it a lucky situation?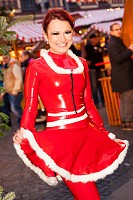 The third things on this x-mas market were the chestnuts. Don't ask me why as I never liked chestnuts before but this these small tasty chestnuts were soooo good. Everything was different on this year and I hope it was not just because of the aforementioned described mulled wine by the "Apple Punch Room". 😃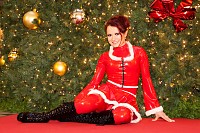 The last important thing, the forth fact I totally liked this year, is maybe not that surprising for your… it's of course: Latex! This time there was no reason for me to avoid wearing latex on the x-mas market again. So, I wore my gorgeous red latex catsuit of Simon O. which gently wrapped me like a second. Over this, I took for Christmas sexy latex skirt and top which surrounded me with another layer of this dreamful material. A friend asked me after my explanation if I am a real heavy rubber girl on the Christmas market but when she saw the photos she said it's simply cute and sexy.
Now, let me wish you a beautiful and relaxing holiday season with your family and loved ones and I hope that my photo and videos will help you to relax and give you pleasure on Christmas. Until the end of this year you get every day an update so enjoy and stay rubberized. 😃
Lara Larsen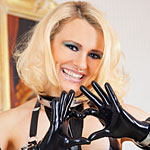 Join Now for Full Access