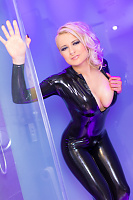 It is often the little things in life which make us happy again and again. One is happy about a surprising bouquet of flowers, the others are complimented and many are happy when there is time to live the hobby. I myself am so lucky that I can also professionally live my passion for latex. Still, I can also experience everyday things again and again and enjoy them. And even if it's just showering.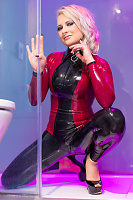 On one of my journeys, I spent the night in a very nice and cozy hotel room. It was small and modern furnished. I especially liked the shower, which was completely made of glass and had a quite moody light with different colors. When I was back in my room I was happy to have a nice long and relaxing shower. But if I want to enjoy something, then I want to feel comfortable all round.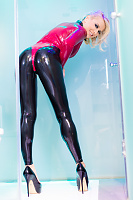 So I took off my latex mini skirt, which I really liked to wear on this warm day and now needed a little more latex on my skin. For this desire one of my beloved suits has to come and of course my black latex catsuit always goes on my travels. I oiled my feet, legs, buttocks and everything completely, which I myself often very relaxing and totally enjoy. Then I took my latex catsuit, took the first leg and put my second foot into my first one. Very easily I could pull up my beloved suit by Simon O. and enjoyed the indescribable feeling of latex on my whole body. The smooth and gentle material feels great. "You little gummimaus," I thought to myself and had to giggle. But my passion for latex is something special and almost insatiable.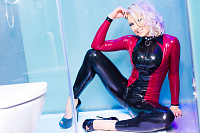 That's why I took my latex body from Simon O. pulled it directly over the latex catuit. Since the latex is very thin, I actually always feel everything through the thin latex layer and so I also felt the body as he completely enveloped my body. An indescribable feeling and just perfect was to take a relaxing shower now. Every single water felt so intensely through the rubber, that I almost no longer wanted to get out of the shower. But it was once again awesome how such an everyday event could become such a special moment. For you but now much more fun to watch me as I have really enjoyed this photoshooting.
Lara Larsen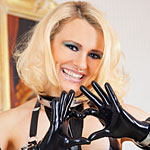 Join Now for Full Access