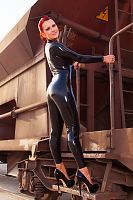 Beside the beautiful old town of Sibenik in Croatia you can see many other beautiful sights which are worth to see. My personal favorites were the city beach, the local port and the rail station. Well, these aren't places which you would read about in any guides but for me it was worth to speak about as the mood was very nice and different. This special mood was also the reason that this photo set was done at the rail station.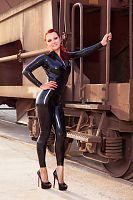 It was one of these last summer days. The sun was burning and it was so hot that I was looking for a calm and shadow place just to relax for a moment. The rail station was right by my side as I was walking at the promenade close the Adria coast. Many trains and container stand around and gave a cool picture for me.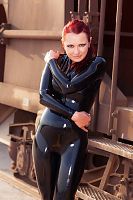 Below my summer dress I was wearing my black latex cat suit. Maybe that was the reason for the heat for me. Anyway, I took of the summer dress and sat beside in the shadow for a moment. And right in this moment a first photo was taken. That was a very cool situation.
Lara Larsen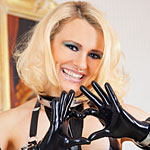 Join Now for Full Access