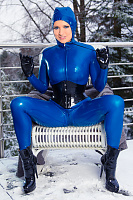 I felt like a snow queen in this picture series. It was indescribable feeling when I put on my blue latex catsuit. I had already written about the soft and soft latex in another series ... well, and what can I say. It was breathtaking again. I really do not know what it is about this latex, but it is indescribable.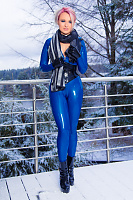 The feeling was one thing, but the color was the right choice. Snow has something cool and somehow it is always a bit bluer than when the sun is shining. So what fits better when I wear my blue latex catsuit in this bizarre mood? And then there's something special about this suit: my matching and totally ingenious hood.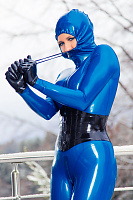 Somehow everything was perfectly tuned and maybe that was exactly the reason why I felt like a little Snow Queen in this series. So it's not necessarily because I want to spend hours walking latex in the snow. No, it was a bit cold for that and I think that a walk here would have been really chilly. For a short time to pose for these pictures and to fully enjoy the mood, that was exactly mine.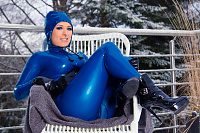 The combination should still stand out and so I combined the latex catsuit with short black latex gloves, a black latex bodice and black boots. A combination that is exactly to my taste and hopefully you like it. Let me know how you find the combination with the environment and the colors. Whether you are fascinated by the blue and whether you have already worn latex in the middle of the snow.
Lara Larsen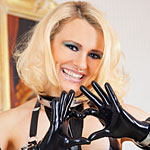 Join Now for Full Access