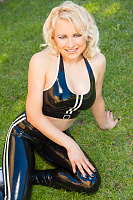 Sport and latex does not go together? Oh, and that's what I show you in this series. Already in another series I wore a very cool leggings with hooded jackets from Simon O. and this time I wear a brilliant combination which is just the perfect sports combination. Super sexy and totally naughty, as I find. So just as I imagine it. But how did it happen?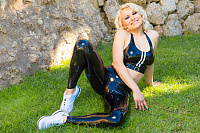 I am always looking for new ideas and outfits, in which I just feel really good. So I have super sexy dresses to go away, totally sexy leggings which I like to wear as well as really cute tops and shirts to combine. When I telephoned with Simon O., it occurred to me that for my sports on holiday really not really something suitable. I can not wear the hooded jacket in any moment, so I quickly got the great idea, if not a sport collection of latex is missing.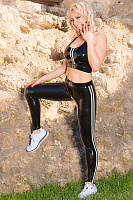 At least me personally lacks here really a great selection and so it happened that I shortly before the holiday a small package with a chic sporty leggings and a suitable top received. That was just super awesome! Of course, the items fit perfectly and looked really sexy. And that is why I wanted to let you participate in this cool picture.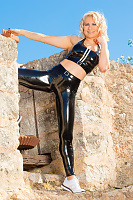 Surely you know how sexy sometimes sporting looks can look but in these I felt pudelwohl. Come with me and let us do a few exercises. As I have heard, the watching is a positive sports feeling. So we start with some beautiful stretching exercises and then start climbing something. Boredom we have here in any case not. As sneakers on and off you go. And do not cheat! Here is nicely neatly garranted. 😃
Lara Larsen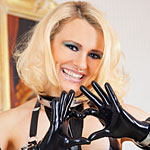 Join Now for Full Access