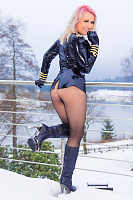 For some of you latex clothing is certainly not the everyday clothes event it's not necessary. There is really a great latex fashion and just the underwear is always hotter and really wears every moment really pleasant. Especially in winter, when it gets really cold, I prefer to wear warm pants and a sweater. But that does not mean that I want to do without latex. A fancy bra, a cute thong or a cool shirt for underneath is always there.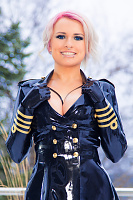 For these pictures, I wanted to test the extremes again because that's exactly what I enjoy a lot. I decided not to do anything that would be practical for a snowy day and chose exactly what is super sexy and I really like it. In my suitcase I had a uniform that I had not worn before and that's just super sexy. I did not want to wear anything that detracts from this uniform, so it was nude or slightly translucent. Then I found my new tights.
Tights are super sexy and for me latex and nylon just fit together perfectly. Unfortunately, many tights have a wide seam in the crotch which is really disturbing. So, it's no problem while wearing but to be a sexy girl such a seam is very ugly. These pantyhose did not have such a seam, no gusset and nothing else. These tights were flat and perfect and therefore just the right combination to my uniform.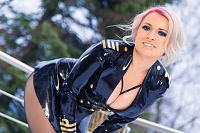 I imagined the pictures with the uniform already in my brain. I stand in front of you like an icy queen with high heels and imagine how you look at me. Just like me, you love the gloss of latex with nylon and wait to see more of your girl. But I'm mean and play with your greed. I see how excited you are and stretch the time. I tease you as far as possible until I show you my pierced tits ... but it came a little differently. The uniform is not long enough to hide pussy. So you see already from the first picture my pussy through the nylon pantyhose. I'm wondering, if that's ok for your or if you wanted to wait to jerk? I really hope you still like the pictures.
Lara Larsen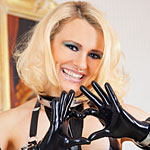 Join Now for Full Access