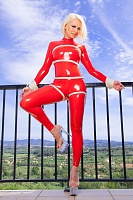 So now I wait. I have no choice but to wait. I can't move. I can't do anything but wait. And I have no idea how long I'll be left here. I find myself wondering if there was a moment when I should have said no.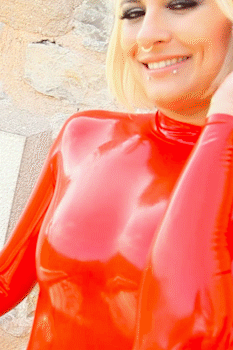 The sun is bright and hot and there is a wonderful view over the countryside, bathed in glorious warmth that is both a blessing for a beautiful day but a curse for me restrained here wearing my shiny red rubber catsuit. It fits me tightly and I feel comfortable feeling it's snug embrace from my neck to my ankles, but it's hot inside the suit and sweat drips between by breasts and down my back. It focuses my mind on how helpless I am and I feel an intense tingle between my legs.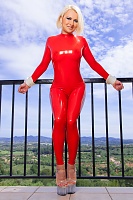 My wrists and ankles are tied very tightly to solid iron balcony railings. I have a large red ball gag in my mouth, strapped tightly and making me drool. All I can do is watch saliva dripping onto the shiny latex on my tits and small puddles on the floor. And wait.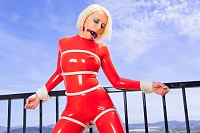 The situation began pretty harmlessly. My photographer called me and asked what I was wearing (he often does that because he is amazed at how I wear latex every day!). I answered him truthfully as I was at home doing nothing much and had put on my red latex catsuit from Simon O when I got up. He said it would be perfect because he wanted to take some test shots. He lived for a short while at a big house with a balcony and a wonderful view. It was a gorgeous day but he didn't have much time so he ordered me to drive right over. How could I say no? Beautiful weather and the chance to model latex in a lovely house! So I slipped on my Converse Chuck Taylor's for driving, grabbed my clear platform "stripper heels" to wear with the catsuit for the shoot and headed over.
Norman wanted to try some shots on the balcony and told me to make my way up there. I asked if I should take anything and he pointed to a pile of white ropes and a red ball gag. He carried his camera equipment and I quickly changed my Chuck's for the high heels and followed him carrying the ropes, but as soon as I reached the top of the stairs and saw the view I stopped and gasped. It was stunning. I wanted to take it all in but Nornan was in a hurry. I didn't mind because I know him well and was sure he would let me enjoy the view after our shoot, so I quickly focused my mind on modelling and we were soon taking the first images you see here.
It was then that Norman suggested the white rope contrasting with my red catsuit. He'd planned to just use it as some decoration, draping it over the balcony, but then suggested making it more useful - to tie me up. I agreed and he quickly began binding my wrists to the railing. He didn't hold back! He tied my arms very tightly either side of me, my back to the railing, and then asked if I was OK and could I move? I said it was fine and that I could move easily, other than my wrists. So he grinned, grabbed more rope and knelt down to tie my ankles, just as tightly, wide apart. I felt exposed now, my legs open and the zipper on my catsuit between my legs now available. My mind wandered. More rope was added around my body, above and below my tits and then around my waist and hips. This time when Norman asked if I could move, all I could do was shake my head and admit that no, I was now tied tightly and helpless. It made me feel very naughty and like a very bad girl - but totally relaxed and at ease. He could read this in my eyes so reached for the ball gag and strapped it in place. My mouth forced open, it wasn't long before I began to drool.
It was then that Norman said he'd taken too much time tying me and that he was so sorry but he had to go out to an appointment. He didn't have time to untie me and so, would I mind waiting like this? Well, what choice did I have? Even if I said no, I was helpless to protest further.
So here I am, helpless and barely able to move, with a beautiful view over the countryside hidden from my view behind me. Tied in paradise. I'm wearing my beloved tight latex, dripping saliva onto my boobs and waiting obediently, wondering if anyone will see me. And all I can do is wait.
Lara Larsen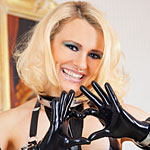 Join Now for Full Access