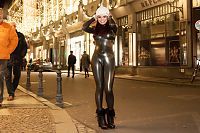 Every weather season has its very own specialty. Right before Xmas the sun set quickly but that makes it more interesting to visit the Christmas fair with the sensual mood, the many nice lights and these tasty smell all around is magnificent for me.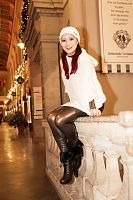 I don't know how often and how many Christmas market I was visiting this year. But personally, the most beautiful one was in Leipzig. Many cute little wood houses with many tasty things. There was a medieval and a Finnish place with fresh bread and life smoked salmon. So yummy! 😃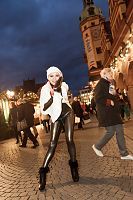 In this year a jury tried all wassail seller and nominated the best and I felt it's my "duty" to check if they have done a good job or not. And that was good on another way as well. My silver latex cat suit was not that warm so this tasty drunk helped me getting quickly warmer.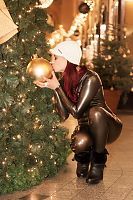 So I visited the Xmas market with my shiny silver catsuit and saw many beautiful things. Otherwise, people around me were more impressed from my beautiful look. All the little lights at the stands were reflecting on my body and looked simply beautiful. Join Now
Especially one comment of an older man was so cute. Obviously, he like my cat suit and explained the photographer to take care about me and that I don't should get a cold. That was spoken in such a cute way that I was nearly melting. Other passengers were just impressed from the latex itself and the fantastic shine. They stand behind the photographer and obviously enjoyed the look… well, there is not every day a girl in latex at the Xmas market. Join Now
Lara Larsen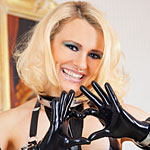 Join Now for Full Access