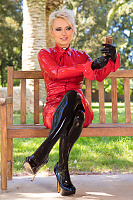 I think role games are really exciting because I'm always open for the craziest ideas at any time. So, many guys send me thoughts of characters which I could be or at least be dressed like. Quite often, I need a very specific outfit for such a project to play a figure as realistic as possible.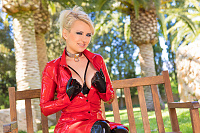 However, in this series the idea was from a very general question: Why can't you be dominant girl this time? And hey this was a crazy idea for me. Usually, I know just my place on the other side so why shouldn't I play something really new for me. Just how exactly do you imagine a dominant lady? What can she wear and how should she give herself? As often I see a porn movie dominating girls just play dominating but often they are dressed very sexy like a perfect whore. So, would this be the way it should be?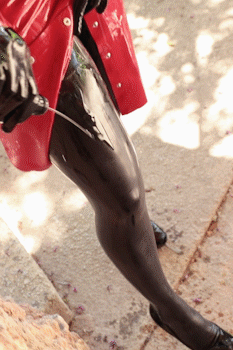 At first, I took my ordinary breast-free bra, black latex stockings and a thin latex suspender for the stockings. Actually, this sounds quite normal for me – isn't it? Yes, indeed it sound sexy, kinky and a little like the dress for a girl. Well, it shouldn't bore but on the other side it's not really the dress of a mistress. And this particular extra became a red latex coat that was pulled tight and tight over this totally hot combination. At first, I didn't felt comfortable at all hiding myself without showing my body or at least my body shape but over time the coat felt chic and sexy and I could play with it brilliantly.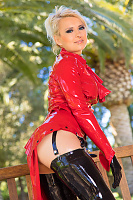 So, I started with the pictures and showed them partially with my mobile phone until I got a clear message: "And now undress!" That was a surprised for me! I began to feel comfortable in the coat. But on the other hand it was the series of a very good friend and fan and exactly he gave the instructions for this picture series! I briefly considered that I should tell him that I'm dressed very kinky under this coat. But then, I was wondering if he already did know it. He knew me and my feelings. I would always wear something hot and kinky below a dress if I wear something usual like this simple coat. What a trap ... but I could not help and recognize a cunning plan. And last of all, I did not want to be the game spoiler - so the coat had to fall.
Lara Larsen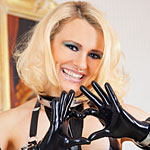 Join Now for Full Access