I was in a funky store's changing room trying on a pair of jeans when my phone buzzed with a text message. I reached into my bag and read it: the name of a hotel, which I knew was about a fifteen-minute walk away, a room number and "30 min". The jeans were cool but I'd barely pulled them up - it's tricky getting tight-fitting denim over rubber because it tends to cling to it, and I was wearing my black latex stockings as part of today's outfit. I decided the potential purchase would have to wait and quickly wriggled my legs out and put the jeans back on the hanger. I threw my grungy, long dark-grey dress over my head and pulled it down over my half-cup latex bra and latex thong. In the changing room lights I could make out the underwear and my black nipple-pasties through the cotton. I loved wearing them like this. They weren't obvious but in certain light some people out and about would be able to notice the dark disks on my tits through my dress and when I got even a little bit turned on - or chilly - I could feel them pulling as my nipples hardened beneath them. Of course, with an order from my Master to drop everything and go to a hotel, my nipples were hard now.
I mussed up my hair a little, touched up my make-up and then slipped my rubber-covered feet into my patent black Doc Marten's. I pulled my dress down to cover my bare thighs above the latex stockings, but the rubber on my legs was on full show. My hands were also black shiny rubber, but the dress was long-sleeved so no one could tell that the latex gloves reached right up my arms. I checked the time, handed the unwanted jeans to the assistant and scurried out of the shop. I arrived a little breathless at the hotel. I'd had to walk fairly quickly to get there and with my arms and legs in latex I was pretty hot. Rubber stockings can be a bit slippery on your feet when you get hot so I'd had to concentrate hard on my trek! Taking a key from reception, I headed up to the room in what was quite a traditional hotel. Stepping inside I immediately saw a pile of leather cuffs and chains and an envelope on the bed marked: "Slut." I opened it and read: "Prepare yourself, hogtied, gagged, ready. 20 minutes. Keep your phone in front of you so you can read messages."
I eyed the cuffs and chains and quickly stripped off my dress and boots. Sitting on the edge of the bed, my heart racing, I untangled the bigger ankle cuffs from the pile and clipped them in place; they locked. The wrist cuffs were a little more fiddly but I managed to lock them, too. I threaded the chain through the steel rings on my ankle cuffs and then realised I'd forgotten the gag. I had to open my mouth really wide to push the big red ball in and then fiddled with the fastening behind my head - buckles aren't easy in latex gloves. I made sure it was tight and I couldn't push it out with my tongue and then, as drool already began to form in my mouth, I knelt on the bed and worked the chain through my ankle cuffs pulling my feet together. Almost forgetting, I grabbed my phone and propped it up safely on the bedside table. Reaching behind my back I tugged at the chains and worked them through the D-rings on my wrist cuffs, struggling a little on my own but eventually, with a satisfying "click" the clasps were fastened and I was secured. My feet were chained together, my wrists secured to my ankles. "Well," I thought, "here goes," and with that I let myself fall forward onto the plush, comfy bed. Instinctively I tried to break my fall but the bondage prevented me. I bounced gently on the bed and then settled, hogtied and gagged, my legs pulled up and my arms pulled down behind me. A glance at the clock and I could see I had a few minutes to spare, so I used the time to test my restraints, yanking on the cuffs and trying to pull my feet apart. No chance, I thought. I was stuck. I tried to wriggle my hands out of the cuffs but I'd secured them tightly.
Then my phone buzzed and the screen lit up with a text. "I hope you're comfortable," it said. I giggled into my gag. Most people would probably be uncomfortable all bound and helpless like this, but for me ... yes ... it was comfy. Another buzzing text: "You will wait now. I may be some time." My eyes widened. I was expecting Master to arrive after fifteen minutes! He was toying with me, I was sure. I smiled and settled back down onto the bed, my head turned to the side. I slurped some drool back into my mouth and giggled at my helplessness. I lay patiently, almost feeling a little sleepy despite my contortion. My knees and shoulders ached a little but I passed the time by singing a pop tune in my head and wiggling my feet to the imaginary beat. Some time later - I'd lost track a little - another text buzzed through: "Are you comfy, slut?" Obviously I couldn't reply. Then: "Let's hope the maid doesn't find you in this embarrassing predicament."
WHAT? I thought, pulling on my bonds. The chains rattled and my cuffs and latex creaked but everything held firm. Drool leaked from the side of my mouth around the gag and dripped onto the bedcover. The maid? I'd seen a woman with a cart in the corridor when I came in. Would she enter the room? Then: "Or maybe someone else will find you stuck here, slut. You're not going anywhere and I'm not coming to get you." Suddenly I found myself struggling even more against my hogtie, yanking against the chains and cuffs. My phone buzzed again: "How long will you be left?" My shoulders strained as I pulled at the chains with my feet, but nothing would give. I struggled and thrashed around on the bed, drooling, helpless. I couldn't get out. I was stuck. Then came a knock on the door ... I hope you like my helplessness and my HD pictures and video. Maybe it would be you who finds your Lara all chained up on the bed *giggles* 😉
Lara Larsen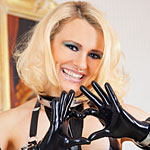 Join Now for Full Access